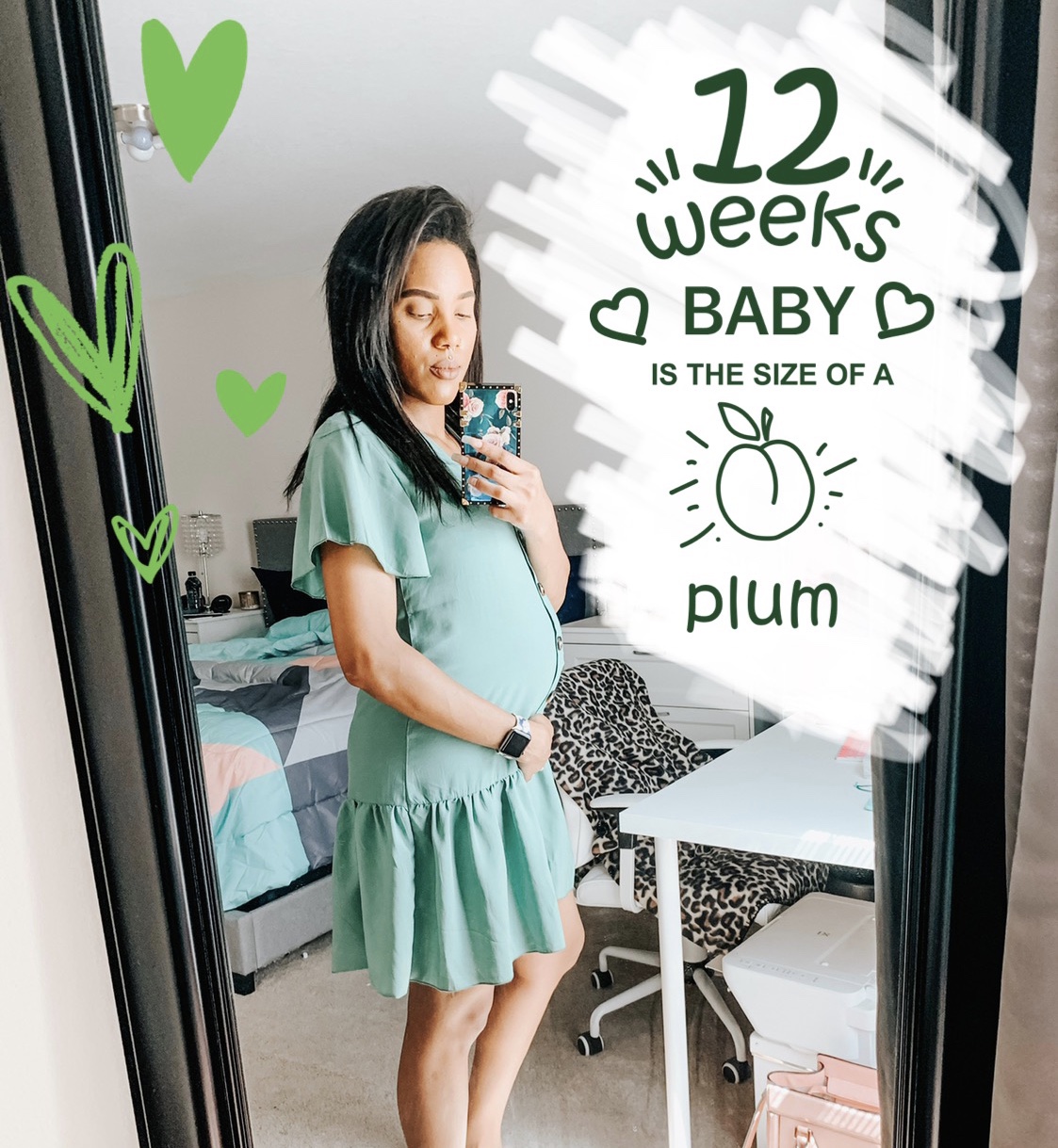 It's bumpdate time again! This is going to be my 11-12 week pregnancy update and I'm currently 12 weeks and 5 days today!
My symptoms have changed as I am no longer experiencing nausea except when I take my prenatal vitamins. Side Note: I'm currently trying the sample packs my doctor gave me but I usually take Olly Prenatal Gummies (they're so good and they taste like candy), I also get it when I'm in the car sometimes and randomly when I'm hungry. I now get the urge to cry randomly as apparently the smallest things like just thinking "I need a nap" can envoke tears of sadness for my poor self whom can't take a nap right that second. I'm still a little tired but I can definitely tell that I am starting to regain my energy. I'm happy to report that my Depression has been much better. I feel the cloud I was trapped under lifting so that's a great feeling. Also, the gas I was having has been less as well. Thank goodness for us all, lol. My breasts are a full C now and still very sensitive and sore sometimes and my face hasn't really changed in size that much lately. My belly is no longer fully suckinable ("Is that even a word, lol?") I'm definitely showing at this point and feel my body getting comfortable with the soon to be all day waddle I will have going on. My restlessness is still lingering but I think it's mainly just me trying to find a comfortable position to lay in for longer than 30 seconds at a time. I still didn't get a pregnancy pillow. I'm looking at a few but not sure if I'm going to get one in store or online yet.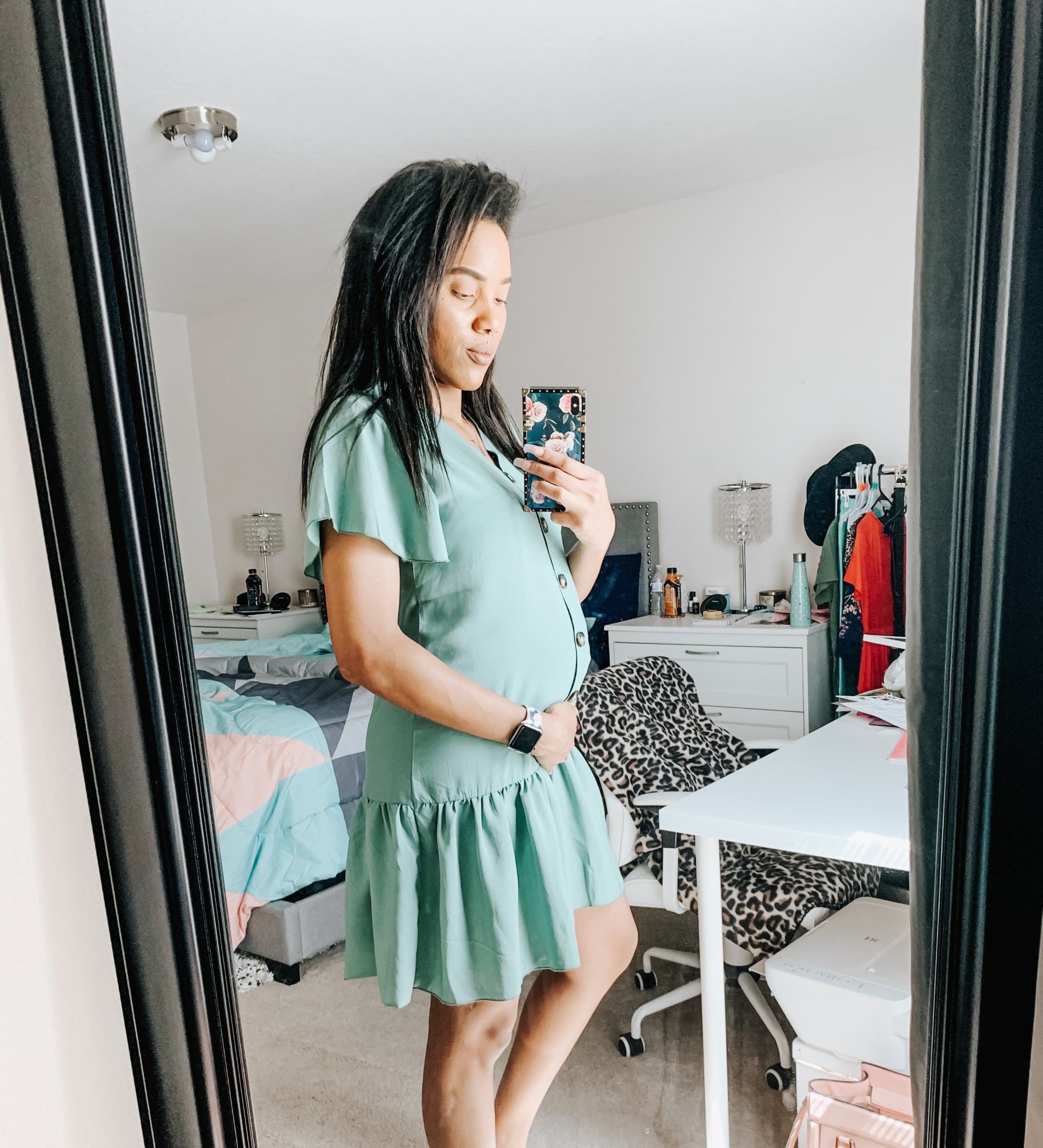 As far as weight gain, I haven't weighed myself since my last post. I don't really worry about the number on the scale and I just focus on making sure I'm healthy. I eat when I want and most of the time what I want at that moment. I feel like I may have gained about 5 lbs in the last 2 weeks but I won't be sure until my doctor's appt this Tuesday. Last weight check I was 150 lbs so we shall see by next bumpdate how much I'm gaining every 2 weeks. As you know from my gender reveal post Here baby Harris is a girl. I was definitely shocked as you can see from the pics, lol. CJ and I were really rooting for a boy but he has another sister to love now and at least now he won't have to worry about ever sharing a room again, lol. I also haven't purchased anything other than a few onesies. Since I do know she's a girl now I feel like I can start planning what I want to purchase for her and her sisters' room now.
We've picked a name already but will be sharing it later. Some of our close family knows her name but that's it. We actually picked her exact name from a hat because we had 2 names that we both liked and couldn't decide between them so Kevin and I put each name in a hat 4 times and then we each picked 3 names out and our 4 year old picked out one more for the tie breaker. What was even cooler is she read the correct name off of the paper. We even had her pick the last name out of the hat and she read that one right too so we knew the tiebreaker was it, lol. So that's pretty much it for this update, don't forget to leave your due date in the comments so you can find your bumpdate buddy. I'm due November 27th so leave your delivery date guesses in the comments below as well.
Always Remember You're Beautiful!
-Lola